LM Fitness offers online and face to face fitness & nutrition services. Lesley Morrison, owner and Trainer within the business, is an expert in weight loss and body transformations, her tailored nutrition plans and exercise prescriptions have achieved phenomenal success with clients across the world.
Lesley
Personal Trainer & Nutrition Coach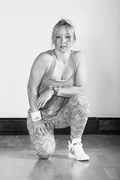 Lesley has been working in the health and fitness industry for the past 8 years, and over this time has built up a strong reputation for being the go to professional to achieve weight loss and transformation goals. With her workout programmes online and face to face, and her tailored nutrition plans, there is nothing stopping her clients from achieving their goals. Lesley works with clients all over the world, and gets the results for them using tried & tested methods.
07544946139
Monday

Tuesday

Wednesday

Thursday

9:30am - 9:00pm

7:30am - 8:00pm

7:30am - 6:00pm

7:30am - 9:00pm